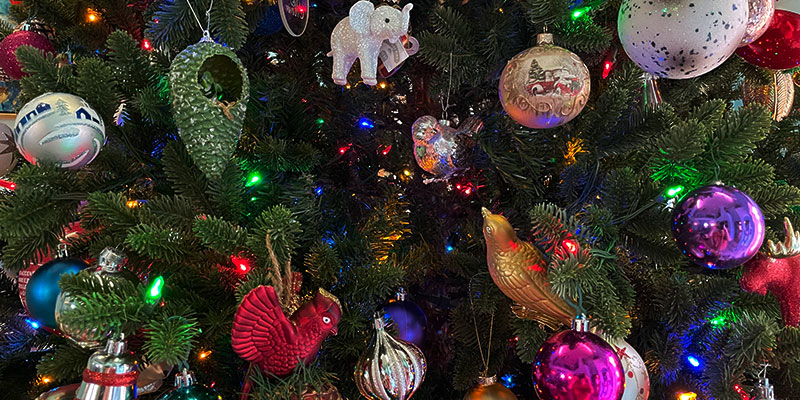 I think we can all agree that 2020 sucked. Normally, I am very much a holiday by the calendar woman: first comes Halloween, then comes Thanksgiving, and only after Thanksgiving one can put up the Christmas tree.
A few days ago, as I wondered around in a daze after finishing the novel and trying to fight off a cold, I stopped in the living room and thought, "I'm so ready for the holidays. I just want something pretty and shiny and an excuse to celebrate. I wish we could put our tree up now, but they probably don't even sell Christmas trees yet… Wait a minute. Our tree is plastic. I can put the tree up whenever. I can do it right now."
The monster tree was in 3 separate tree bags, parts A-F. I won't bore you with the heroic struggle we had to endure to actually put it up. It involved Gordon standing on the very top of the ladder and cursing. But finally the furniture was rearranged, and the tree was up. I promptly put a dozen ornaments on it and then I got too tired.
Yesterday, after we finished cleaning the house, Kid 1 stared at the tree.
Me: Is it bothering you?
Kid 1: I'm going to put the ornaments on it. I will do it myself. I just want to do it.
Behold the 3/4 finished monster tree.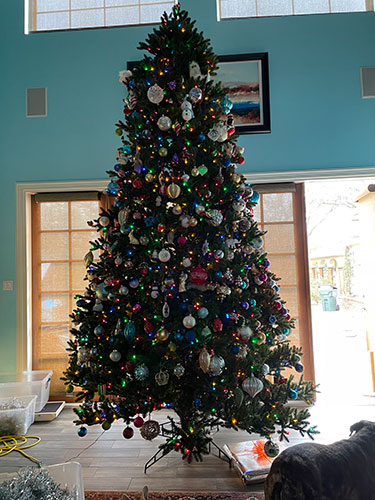 I love having grown children. I think this is my reward for making it through their adolescence.
I will take better pictures when it's all done.
This year for Christmas I decided to ask for house slippers. We have tile throughout the first floor and I like to have a little padding under my feet, especially when I cook. I used to love crocs, but apparently they can give you nail fungus, and I do not want fungus. So I bought these slippers.
They have padding and arch support. Unfortunately I shuffle in them. I sound like some old medieval woman carrying a sack of oats to the market.
Shuffle-shuffle-shuffle: me going to the kitchen for iced tea.
Thump-thump-thump: all the dogs running after me because if I am in the kitchen, I might take out a cutting board and cut some meat on it.
Shuffle-shuffle-shuffle: me coming back with my tea.
Plod-plod-plod: disappointed dogs trailing me.
Shuffle-shufffle-shuffle: me going to the bathroom.
Thump-thump-thump: all the dogs running after me, because I might need help.
Shuffle-shuffle-shuffle.
I am so sick of shuffling, I can't even tell you. This was a waste of $30. I need to find some sort of inside the house shoes that don't drive me nuts and then I need to put them on my Christmas list.