I talked to the person who left the comment and I know where they were coming from. We are now moving past this. Here are the Baylors. 🙂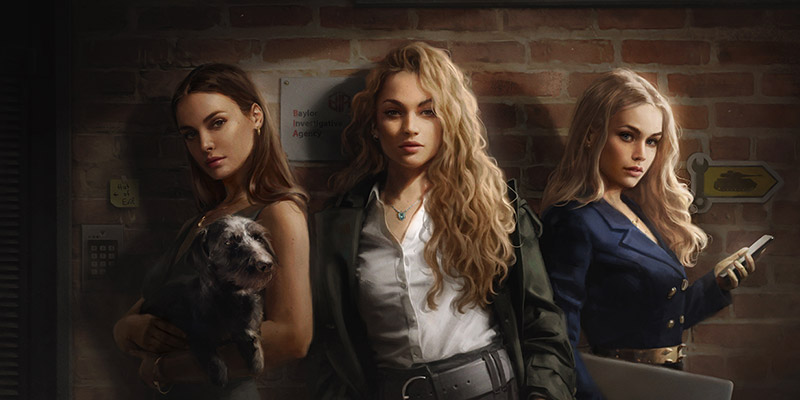 The entire family had gathered in the hallway, filling it wall to wall.
Leon, tall, lean, dark haired, with a dark tan and a white smile, leaned against the wall, because if there was a vertical surface present, my youngest cousin felt compelled to prop it up. Next to him Bern, his brother, larger, with broad shoulders, muscular build, and hair that turned dark blond during summer and light brown in the winter, wrapped his arm around Runa. Her hair was blazing red, her eyes were green, and her skin was so pale that we all teased her about glowing in the dark. Bern carried a laptop and Runa held a tablet.
To the right, by the conference room, Arabella crossed her arms. Petite, tan, with an hourglass figure, my sister wore a black and white floral Jacquard dress with a crew neckline, fitted waist, and flared skirt. She paired that with black pumps. Her blonde hair, which she recently toned to a cool ash shade, rested on her head in an artfully loose updo, which she called "the most popular girl in church hair." She must've had a high-profile business meeting this morning. Probably with House Bhatia.
Behind them, Mom stood next to Grandma Frida. About the same height, they couldn't be more different. Grandma Frida was slender, bird-boned, with a halo of platinum curls. Her mechanic coveralls were stained with a fresh smudge of engine grease. Mom was solid, with light brown skin, dark hair, and dark eyes, which turned distant when she measured the distance for a kill shot.
Just behind them Cornelius waited, dressed in a light summer suit and a grey vest that fit his trim body with custom precision. He'd rolled the sleeves of his white dress shirt up to his elbow. His blond hair was slightly ruffled. Cornelius always dressed impeccably, but no matter what he wore, unless the occasion was really formal, he managed to look effortlessly casual.
Patricia Taft, our security chief, stood beside Cornelius. In some ways, they were polar opposites. Cornelis was artfully disheveled and appeared nonthreatening. Everything about Patricia was precise, from her dark brown hair put away into a French braid to the beige pantsuit that complimented her brown skin. She wore the pantsuit like a uniform, and she projected confidence and authority that made people fall in line when they saw her coming.
And finally, Alessandro, my Alessandro, looking at me from the doorway of my office.
I held a key up. "I need you to form a single file."
The family stared at me.
"You have to enter the conference room one at a time, watch where you put your feet, and check your chair."
Bern turned to Leon.
"What?" Leon batted his eyes at him in pretended innocence.
"You know what," Bern told him.
"Why?" Mom asked.
"Because REDACTED."
"Perfect," Arabella said.
"My deepest apologies," Cornelius said, looking troubled. "I've spoken to Matilda."
"REDACTED." I unlocked the door and stood aside.
"I can't guarantee that," Runa said.
"Try," I told her.
The family filed into the conference room. I waited for a scream. No shrieks came. Alessandro crossed the hallway, the plastic container in his hands, and invited me into the conference room with a sweep of his hand. I walked in, checked my chair, and took my place at the head of the table. Alessandro sat on my right. Patricia sat on my left.
Bern set the laptop at the end of the table and tapped some keys. Connor and Nevada appeared on the screen. My brother-in-law was in his work mode, dressed in black and doing his best to loom. Connor was a large man, with dark hair and intense blue eyes, and he radiated menace like a space heater radiated warmth. He must've heard about Cabera, because normally when we saw Connor, he was relaxed and smiling.
My older sister waved at us. Her tupelo honey hair was braided away from her face. She wore a white dress, which meant she either was about to go out or had just come back from somewhere, because Arthur Rogan and white dresses did not mix. My nephew was ten months old, and we all suspected that someone had switched him with an energizer bunny when nobody was looking. He'd learned to walk and as soon as he could take a couple of steps unassisted, he decided he had places to go and things to do and when that failed, he levitated things to himself. His control was a bit wobbly and sometimes his sippy cups opened in mid-air.